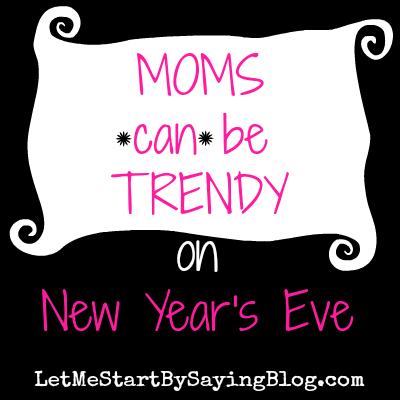 Momsanity
and
Momsanity holiday edition
were the workouts that got you that killer bod you are now rockin'. None of that 2 hours minimum per day of Pilates for you. After all, you are a middle-class mother of small children. The only way you could swing the child care for that kind of time commitment would be to set a
Sesame Street
DVD to repeat and duct tape your kids to the sofa.
Oh-so-wisely you used the trials and tribulations of motherhood to get yourself a bounce-quarters-up-to-heaven ass!
But still, you have a problem.
HOW TO ADORN ALL THIS FABULOUSITY?!!! (asked while running your fingers down your sides and striking a fierce pose.)
You simply CANNOT do New Year's Eve with a body to die for, but looking like a prime example of the no-style lifestyle. You've trolled (pun fully intended!) Pinterest boards seeking new looks, but God, they're so effing complicated and intimidating.
"For the love of vodka, I just want to be a trendy mom!" you scream aloud.
Fortunately, Kim, the blogger behind
Let Me Start By Saying
has answered your prayers! In a lushly rich spread entitled
New Years Eve Fashion for Moms
, she has assembled 14 of the hottest mom bloggers (Including me!) out there to demonstrate the go-to trends of New Years 2013! The stunning photography will inspire you to experiment not only with new looks, but with a new way of BEING.
You'll be the trendy mom of your dreams, daring to rock a style like none other.
You'll be a rare goddess who can coax unparalleled beauty and elegance from her four year old's craft box.
For realz, check me out! I look like I just finished a make out session with a Big Bird's drag queen cousin.
We're waiting for you...